Tickets and Seat Locations
2018 Australian Open Tickets & Seat Map
Our Corporate tickets offer the following:
Highest category, shaded corporate cushioned box seats at Rod Laver Arena
Corporate cushioned shaded box seats at Margaret Court Arena
Optional access to Corporate Lounges & Championship Bar
Dedicated express outlets for drinks and snacks
Rod Laver & Margaret Court Arena have access to outside courts
Australian Open merchandise at a 20% discount until 1 December 2016
Australian Open Venue
The 2017 Australian Open is held at Melbourne Park complex which is located in the heart of the city. The main stadium "Center Court" is called Rod Laver Arena and the second main stadium is named after Margaret Court. Both Stadiums as well as Hisense Arena have remote controlled roof tops which could be closed during extreme heat and inclement weather. Rod Laver and Margaret Court Tickets have access to 3 show courts and 13 outside courts as well as Hisense Arena .
Our Rod Laver & Margaret Court Arena Tickets
Travels With Soha has reserved some of the highest category shaded corporate seats at Rod Laver & Margaret Court Arenas for you. We offer tickets for all rounds of play. Your seat numbers will be confirmed when you book your trip. There are 2 sessions scheduled each day on Rod laver and Margaret Court Arenas. A day session and a night session. The day session begins at 11:00 Am. Three matches are scheduled during the day sessions. Night session begins at 7:00 Pm and will feature 2 matches .
Non corporate reserved seating at Rod Laver Arena
Travels with Soha offers tickets for the Quarter & Semifinals in the general section of Rod Laver Arena.
Outside Courts ( general admission)
Your Rod Laver & Margaret Court tickets will grant you access to all outside courts. We will be happy to obtain grounds passes and non corporate tickets for all sessions. Please inquire .

A glass of wine in between matches at the Corporate Lounge
To reserve your seat, call us at 415-933-6612 or email us at info@travelswithsoha.com
Request More Info!
Our Rod Laver Arena seats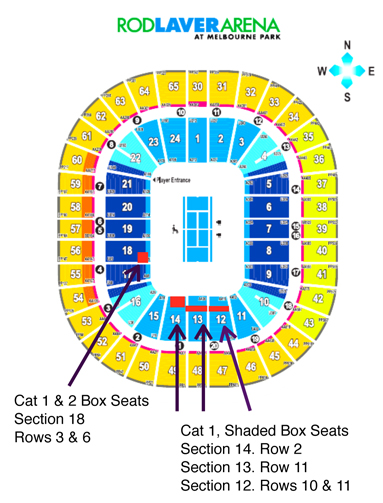 Margaret Court Arena
Margaret Court Arena Corporate shaded seats Front & second rows
Download brochure (PDF)